Superseed - This Is The Way To Go
4/2/2019
Δημοσιεύτηκε 4/5/2020 17:42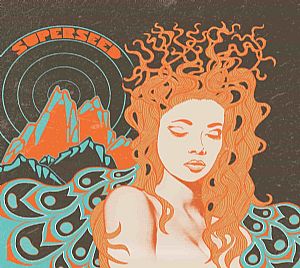 Superseed
This Is The Way To Go (Official Video & Radio Single)
ROAR! Rock Of Angels Records
4 February 2019
Immediate Press Release:
Bristol UK based rockers SUPERSEED have released their third official video and radio single for the song "This Is the Way to go". The track is taken from their self-titled debut album which will be released this coming Friday, February 8th, 2019 through ROAR! Rock of Angels Records. The artist's first offering will be available as Digipack CD, Gatefold Orange Double Vinyl (Limited to 300 copies) and digital streaming & download format.
Singer/Guitarist David Edgar comments: "For this video we took advantage of the environment we had available to us when shooting our second video 'Turn The Screw'. The Floating Harbour film studio is based on a converted boat moored on the Bristol harbour and using this location also allowed us to show elements of our hometown. We wanted to add some humour and randomness to this film so I came up with an idea to use the talented parkour enthusiast Harvey Charlton as my stunt double (although I did some of the running!) to portray how I would like to travel to the pub to meet my band mates in an alternative universe. This also allowed us to use more scenic backdrops of our fair City and of course we all end up in the famous Merchants Arms pub for a well-deserved pint."
Film Director Katy says: "This is the way to go" is a song about growth and personal journeys so the video absolutely reflects that. The boat location and the running element are both travel metaphors. Special effects offer super 8, VHS, crisp high frame rate HD and the band appearing in 35mm film, which in itself represents the journey and evolution of moving image. I took a snap decision to have a cameo in the video as a nod to a few of my favourite film directors who do the same. You can also see other members of the production crew appearing, Laurie Dix, (1st AC) and Matthew Wilkins, (production assistant) feature at the bar. My favourite thing about this video is that the personality of the band comes out, they're a fun bunch and the free running section was Dave's idea. Cutting those sections together was really fun, I loved the tongue in cheek humour it brought to the video."
Watch the video here: https://youtu.be/uZBTaAJnWyc
Director: Katy Bear Smith
Camera Assistant: Laurie Dix
Matthew Wilkins: Production Assistant
Equipment & Film Studio: https://floatingharbour.co.uk/
Parkour Stunt Double: Harvey Charlton https://www.facebook.com/Harvey-Charlton-Parkour-Freerunning-1653181611438088/
Barman - Matthew Wilkins
Pub regular - Laurie Dix
Lady on the bench - Katy Bear Smith
The album artwork was made by Annette Becker Design https://www.facebook.com/annettebeckerdesign/
The album can be pre-ordered here:
http://bit.ly/superseed-st-roar
http://bit.ly/superseed-st-mm
SUPERSEED is:
David Edgar - Guitar/Vocals
Dan Armson - Guitar/Vocals
Ben Taylor - Guitar/Vocals
Keith Bowers – Bass
Matt Colley – Drums
https://www.facebook.com/superseedrock/
Track List:
1. My Time Is Now
2. Static
3. Heavy Times
4. Uneasy Swarm
5. Interference
6. Someone Broke It
7. The Face That Followed You Back Home
8. Quicksand
9. Turn The Screw
10. Country Mile
11. This Is The Way To Go
12. You Failed!
13. Messenger
14. Already Done
15. No One's Getting Out Of Here Alive
16. Let Yourself Go
After a time spent learning their craft and paying their dues in various bands since the early noughties, these five musicians from Bristol, England joined forces to form SUPERSEED in February 2017. Boasting a three pronged attack of singer/guitarists and a solid, driving rhythm section, this five piece band create a huge anthemic wall of sound guaranteed to get your body moving. SUPERSEED's eponymous debut album was written and recorded during 2018 at the band's own studio and this led to them signing a multi album deal with European Rock Label – ROAR! Rock of Angels Records. With a varied melting pot of rock influences proudly worn on their sleeves, SUPERSEED manage to deliver an epic initial opus that will be released through ROAR! Rock of Angels Records physically and digitally worldwide in February 8th, 2019.
Σχολιάστε το άρθρο