1000mods - Repeated Exposure to...
Δημοσιεύτηκε 4/5/2020 18:58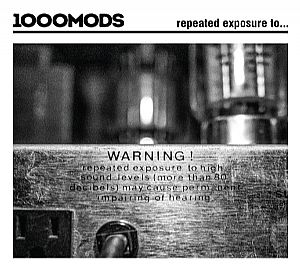 Πληροφορίες προϊόντος
Τίτλος: 1000mods - REPEATED EXPOSURE TO…
Label: Mighty Oug Recordings
Είδος: Heavy Rock
Αριθμός CD: 1
Κυκλοφορία : 26/9/2016
ASIN:
OVERVIEW
Greek heavy rock pioneers 1000mods get back in action with their third full length album (probably their best so far too), following its critically acclaimed predecessor "Vultures" (2014) which was supported by relentless European touring. "Repeated Exposure to…" is a mixture of all that's heavy in the glorious 70's and the 90's heavy rock movement. The songwriting is inspirational, featuring –as usual– heavy downtuned riffs and tight, powerful drum grooves, while frontman Dani delivers some of his best and most memorable vocal lines to date. Having been recorded with hi-end outboard equipment in a non-stop 24/7 procedure and produced by both the band and sound engineer George Leodis, "Repeated Exposure to…" sounds much better than any of its predecessors. The final touch was given by Brad Boatright, the audio mastering engineer of Sleep's "Dopesmoker". 1000mods have come up once again with a release of high quality, which will definitely leave its mark on the international heavy rock scene.
MARKETING & PROMOTION / SELLING POINTS
Third full length album from Greek heavy rock pioneers 1000mods.

Released digitally and on CD on September 26th and on vinyl LP on October 30th by Ouga Booga and the Mighty Oug Recordings. Promoted by 3P Lab.

1000mods have played over 250 live shows, sharing the stage with bands like The Black Keys, Graveyard, Brant Bjork, Colour Haze, The Atomic Bitchwax, Karma to Burn and many more. They are known for their commitment to vintage equipment, thick and heavy analog sound and remarkably passionate stage performances.

1000mods have toured Europe four times. On their latest tour, during May 2015, they supported The Atomic Bitchwax for 15 dates. They have also participated in leading music festivals such as Desertfest, Up in Smoke 3, Rockwave Festival and Lake on Fire.
1000mods are scheduled to depart for their next European tour on September 29th, alongside Monkey3 and Moaning Cities. The tour features live appearances in Up in Smoke Indoor Festival in Z7 (Switzerland), Desertfest Belgium, Desertfest Athens and Keep it Low Festival (Germany), as well as in some of the most renowned music venues of Central Europe.
"Repeated Exposure to..." is the brand new full length album by Greek heavy rock pioneers 1000mods. Having toured extensively in Europe, this heavy rock roller coaster from Corinth succeeds once again in delivering inspirational songwriting, performed with big amps, downtuned guitars, groovier-than-life drum parts and some of their best vocals to date. Suitable for fans of 70's Sabbathic rock and the 90's heavy rock movement.
The album was produced by 1000mods and George Leodis, engineered by George Leodis at Wreck It Sound Studios, Korinthos, GR, during summer of 2016, mixed by George Leodis and 1000mods and mastered by Brad Boatright (Sleep, Corrosion of Conformity, Nails, Beastmilk, Obituary, Yob etc.) at Audiosiege Studios, Portland OR, USA.

Just like stated in the album title, the creation of the latest 1000mods release was driven by repeated exposure to high sound levels and that's how this band does it. "Repeated Exposure to..." carries a noteworthy devotion to hi-end gear, having been recorded with the best possible outboard equipment in a non-stop 24/7 procedure. It's no surprise that the brand new 1000mods full length album sounds much better than any of its predecessors.
The cover photo was taken by Aris Panagopoulos and the layout was designed by Fuzz Ink.
TRACKLIST
1. Above179
2. Loose
3. Electric Carve
4. The Son
5. A.W.
6. On a Stone
7. Groundhog Day
8. Into the Spell
Visit: www.1000mods.com | www.facebook.com/1000mods | www.instagram.com/1000mods - Press contact: 3plabgr@gmail.com
Σχολιάστε το άρθρο