Agathe Iracema - Interview
By Efthimis Paras
Δημοσιεύτηκε 31/12/2019 11:19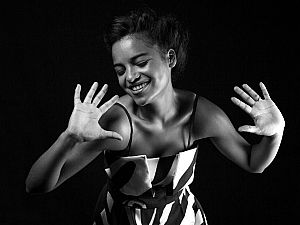 Tell us about your musicians!
Come hear them play!!! I'll be performing with Julien Lallier on piano, a player I'm used to work with, beautiful being and a great musician. On the drums it will be Corentin Rio and like the double bass player, Arthur Henn, I couldn't say much less other that they young and very talented. I built this crew for this trip to Greece which we really wanted very much to do. Come see the magic happen and you'll tell about them for yourselves.
You born in Paris and having French and Brazilian roots. How did that influence youΆ
Well, we're all influenced by the place and the culture in which we grow up in so many ways. It's hard to tell… And I like to believe we can all exceed this conditioning though the magic of encounters.
Here is a positive thing about it, I think, when you grow up or evolve, between different cultures (for my part Brazilian and French culture, which are pretty different) at some point you start to face some contradictions. And I believe, the more you can access both cultures, and bump into those contradictions on your own, the more it pushes you to develop a certain free will... at least invite you to change you ways to look at things, little by little… by stimulating your curiosity and openness about what is different.
So, for an artiste who shares expression of human inner life experiences and society reflexions, it's an open door to an infinite source of inspiration. Driving you through the beating heart of life! So, I don't know how it influence me, but I truly believe that cultural mix is a very positive experience. Somehow it gives me strength and a lead to help me reach a good balance in my heart, my head, my life and therefore in my expression of art.
Your father is bassist Reubens Santana and you have attended many concerts during your childhood. How much this experience helped you for taking the decision to start musicΆ
Maybe a lot, maybe not. I have always been familiar with music, dancing, and singing. A friend of my parents told me once that I said I was going to be a singer when I was about 4 year old! I remember willing to be a princess..! Then realized that it had a very little chance to happen and later, that it wasn't that cool after all. By the age of thirteen I wanted to be an actress, but I couldn't picture myself doing it for real.
At this time, I was a big fan of Ella Fitzgerald, Chet Baker and Sarah Vaughan singing... I started to learn my first jazz standards, That let me to a Masterclass of Sheila Jordan, a NewYork singer I knew nothing about. I was encouraged to go there… She is the one who told me first; Girl you got it! What are you within forΆ Work your English!! Come to New York! And it just clicked; « Mom, I'm going to be a singer » I said! All I knew is that I wanted to be an artist. My parents had this passion, they share it with me. No matter the form, art has always been the most beautiful and thrilling thing ever to me. This was a way to it! A call. and I run for it.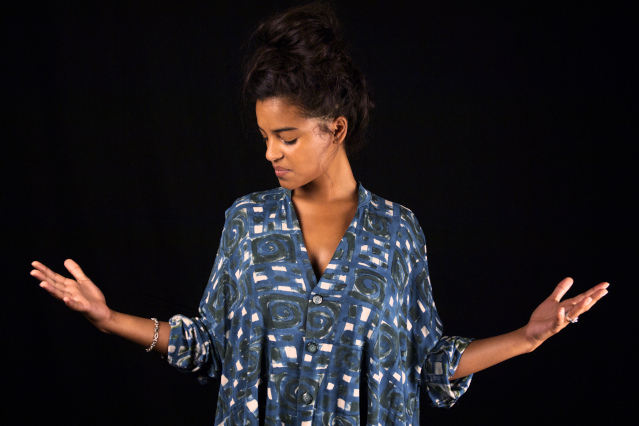 Your influence also has been quoted as Sarah Vaughn, Ella Fitzgerald, Edith Piaf and Charles Trenet. Which male voices you admireΆ
Haha vocalists.. Sure!! I told about Chet,.. well, Ray Charles Louis Armstrong, Oscar Brown Jr/ Sammy Davis jr / Gene Kelly! .. Bill Withers .. Marvin Gaye, Stevie Wonder., Micheal Jackson, Freddie Mercury !! And DJAVAN! Caetano Veloso, Gilberto Gil, Chico Cesar, Aznavour, Brel, Balavoine, Ibrahim Ferrer, Planas.. well, here are only some of them. I love to hear them all sing. And everything we love inspires or influences us somehow.
At the early age of 14 years the legendary singer Sheila Jordan took over and influenced your overall jazz career. Tell us about this experienceΆ
Haha! We stayed in touch, and she supports me. I love her! I was deeply touched by her, the way she is, her records «Sheila Jordan & Arild Andersen» 1985, «Portrait of Sheila» 1989!!
Your second album's title is Believe in Romance. Do you Believe in RomanceΆ
I do!! Isn't it marvelous and beautiful to liveΆ Why are we so shy about itΆ... Perhaps that's what make it so special... But still… The thing is, it takes courage, confidence and honesty to be romantic. We are talking about real romance right, not a simple flower bouquet, or perfumed candles (laughing) even though it could be romantic... For me Romance is all about allowing a little crazyness or carefreeness to mix with serious honest feelings!
Romance is love's laughter, love's smile. It's not everything about it but we all need an inch of it, at least, from time to time. Otherwise, it isn't that fun… is itΆ!
These days you will be in Athens with your quartet. Have you ever been in Greece beforeΆ
Once. I flew to Athens and took a boat to Amorgos. Holidays, with the first person I fell in love with. The «Believe in Romance» guy, you know (laughing).
What is your next goalΆ
Realizing my next album, all compositions of mine. Mixing all my influences this time… Jazz Brazilian and much more... Make people go emotional, make them dance, carefree, and sing and smile at each other. I'm working on it.
Personal goalΆ Keeping on keeping on and bettering myself. Keeping on learning.
Is there anything that you would like to share with your friends in Greece.
Hi friend! I don't know you just yet, but I'm bringing some love for you, so come over to see us!
Thanks
Σχολιάστε το άρθρο