Avishai Cohen - Interview
By Efthimis Paras
Δημοσιεύτηκε 31/12/2019 11:19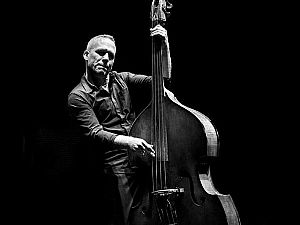 Interview on Jazz Blues Rock
You come from a musicians' family. How did that influenced youΆ
Well I am not really from a musicians' family but I have been formed as a musician from my mother's influence. My mother is a Sephardic descendent and speaks Ladino, and so was influenced by the culture's music. I remember her always singing at home. Her voice and the way she sings is exactly like me.
You were born in Israel, started playing the piano at 9 whereas at 14 you started playing the bass influenced by Jaco Pastorius. Would you like to share with us your thoughts about this change of courseΆ
I was inspired by Jaco Pastorius when I first heard his music, and I picked up the electric bass at age14, it was later that I started learning the double bass.
I was always was going to move to the acoustic upright bass I guess, but I came to it late at around the age of 20. I guess then I found the confidence to take on the challenge and embrace this unique instrument with a great teacher in Israel.
The Bass has been my closest musical partner ever since. I explored and developed my own way of playing and performing with it over the years, it's a big part of my message as a leader,
it's a blessing!
What do you consider to be more valuable from your first "difficult" years in New YorkΆ
At the age of 22 I decided to take a big step and moved to New York city with my bass. Moving to the 'Big Apple' was a challenging decision, emotionally as well as professionally. I had a tough beginning; performing on the streets and working in construction to get by. These small steps gave my music a unique sense of authenticity. At that moment I felt I needed to take that step and go to NY , and the moment I could call my parents that I succeeded as I could live from being a musician was an important moment for me.
Jazz, ethno jazz, folk jazz, jazz fusion. And during your studies you played latin jazz. Do you consider that this played a strong role for Danilo Pérez to invite you in his trioΆ
I was always open to all music but I really got into Latin music, funk and reggae, and I soaked up a lot of things that were going on in New York, especially jazz. So yes, I guess this has played a role in Danilo's invitation to perform with him at that time.
How would you describe your music co-operation with Chick Corea after being with the label that he leaded and playing with his trio and sextet.
I've learnt from a lot of people over the years, but Chick Corea was a big teacher for me. He was a master at being generous with the music and musicians on stage and I have very good memories of being a part of that. During my 6 years with Chick, he taught me how to be a band leader, and also how to communicate in an effective way with the audience.
Bobby McFerrin, Roy Hargrove, Herbie Hancock, Kurt Rosenwinkel, Nnenna Freelon and Paquito D'Rivera are some of the names that you have worked with. With whom do you consider that you had the most interesting co-operationΆ
I am feel inspired to have performed with so many great musicians, they are all very much valued by me , its inspiring always and today I work and bring many young musicians into my music and touring bands, it's a circle I wish to continue to complete
Is that true that the reason of Lyla is the most representative of yours and whyΆ
The album Lyla was important as it was the first album I was able to release on my own label, its eclectic and varied and gave notice of what may come, from me and others over the years to date
It was a significant album, artistically and a time of transition that always will be remembered by me personally.
On February 2nd you will be in Greece at Gazarte for one and only appearance. How do you feel about playing in our countryΆ
It's always a pleasure coming to Greece, I like the culture and the good food, and the nice vibes of Athens and the peoples spirit.
You have 15 personal albums up to now with the last one (1970') being released last October. Are you going to emphasize on that during your live performanceΆ
This time I will bring my trio, so the show will be more around my trio music, past, present and new compositions just created.
Is there anything that you would like to share with your friends in Greece.
Looking forward to perform in Gazarte again, The first show of 2018 so I wish for a great start with the people and music lovers in Athens
see you all there!
---
Avishai Cohen will be in Athens on Friday February 2 at Gazarte Live Stage. See more here!!!
Σχολιάστε το άρθρο