Interview Ron "Bumblefoot" Thal
Interview : Panagiotis Loukas
Δημοσιεύτηκε 11/11/2020 12:35
Guitar virtuoso, singer, songwriter, multi-instrumentalist and producer Ron "Bumblefoot" Thal released his 10th CD entitled "Little Brother Is Watching" on February 24th. Bumblefoot has over 20 years of releasing music, performing at international festivals, headlining solo tours, won many album of the month/year awards and has appeared on the covers of numerous music magazines as a solo artist. As lead guitarist of Guns N' Roses, Bumblefoot toured sold-out shows all over the world, headlining festivals with crowds up to 150,000 people. Bumblefoot's unique 'fretless guitar' can be heard throughout GNR's 2008 Chinese Democracy album. Bumblefoot has current collaborations that include DMC from the iconic rap group Run DMC, and Scott Weiland in the supergroup Art Of Anarchy. Bumblefoot talks to jazzbluesrock.gr about Little Brother Is Watching , Art Of Anarchy , DMC , about his favorite album from Manowar and Metallica, and he recalls about the 2 performances in Greece with Guns N' Roses and Lita Ford in 2006 and 2009. Bumblefoot will be again in Greece, in Corfu Rock School (August 1st - 8th) doing guitar workshops in the morning, then spend the afternoon at the beach and relaxing!
---
You have a new album Little Brother Is Watching. We would love to get some insight from you as to what's behind your inspiration for this record.

The inspiration came from living life, real experiences, pretty auto-biographical. "Clots" was written about doctor visits after they found a tumor. "Little Brother Is Watching" talks about how we're all under each other's watchful eye and the pressures it can cause. "Argentina" is a love/tragedy story about jumping into something without thinking it through, realizing that the parties involved both expected something different from the other, and how in the end the emotions turn dark, bitter, into hurting each other – it can be about any kind of relationship... "Don't Know Who To Pray To Anymore" is about losing faith, and needing to make peace before you're able to move forward. "Cuterebra" has some of my favorite lyrics – it compares the life-cycle of a parasitic fly to *gossip*, how seeds are planted, they grow beneath the skin and eventually surface, grow their wings and land on the next person... "Livin' the Dream" is about touring, the transitions of bouncing between two sides of your life. "Higher" is about enjoying your life *now*, giving yourself good memories, and how certain songs can be the soundtrack to these moments. "Women Rule the World", well, self-explanatory, haha... "Sleepwalking" is about being disassociated from your own actions, not facing what you need to. Eternity" is a ballad, about looking forward to waking up each morning with your 'better half'... "Never Again", a song about admitting to yourself it's time to let go of what you need to. There's varied inspirations that show up – David Bowie, Queen, George Harrison, Stevie Wonder, Iron Maiden, Manowar... the album is a collection of individual stories, each has its own character...

What was the creative process like in making Little Brother Is Watching and how long did the record take to write and produce'

I had a few ideas for songs that were unfinished, waiting for the right home... but it was in December 2013 that the writing began, with the intentions of making a new album. It was the first time I wrote while on tour (w/ GNR, March – June 2014). I'd wander the stairways of hotels with a phone writing words down... the writing continued on the Guitar Gods tour (Bumblefoot & Yngwie Malmsteen, June/July 2014), and finished July 2014. Recording began in May 2014, laying drum tracks between tours, and continued in July, all the way to January 2015. It started with drums, and 1-take reference tracks of bass, vocals, rhythm and lead guitar, as I guide for the drummer Dennis (http://www.DennisLeeflang.com) to play to. The lead guitars were spontaneous, and as I began recording the actual lead guitars I realized that what I did in the reference tracks were the most honest and natural, many of the melodies on the album were spontaneous. This was the most comfortable I ever was, everything happened easily, it felt like a very direct connection from what I felt to what I recorded. In December, I threw a listening party for 100 fans at a venue in NYC, where I'd play each song, we'd talk about each song, and then I'd show everyone parts to sing together. Half the songs on the album have the crowd singing, chanting, stomping their feet... it was important to me to include people on the album. It's not just my album, it's their album too. :) I also wanted people to see the process of making the album, and watch how the songs develop, while recording the album we posted videos, they're on YouTube at http://bit.ly/bbfnow :)
Who is the "Little Brother Is Watching". It's the internet, the society, the technology'

We are 'Little Brother'. We are society, we use the internet and technology, we're the collective sum of individuals independently watching, sharing, connecting, engaging, acting and reacting...

What is the deeper meaning of "Living the Dream"' You are/were in a famous rock band, but I can see that you prefer your solo career instead of being to a famous band.

I enjoy it all honestly, and am happy to experience it all - famous, not, solo, not, as long as I'm remaining creative and have real relationships and connections. I've had that and I continue to have that, through choices, sometimes difficult choices. "Living the Dream" is giving my own personal detail about touring – it's not a dual life, it's about alternating between parts of your life, hitting the pause button on one bunch of things, while taking your finger off the button on others.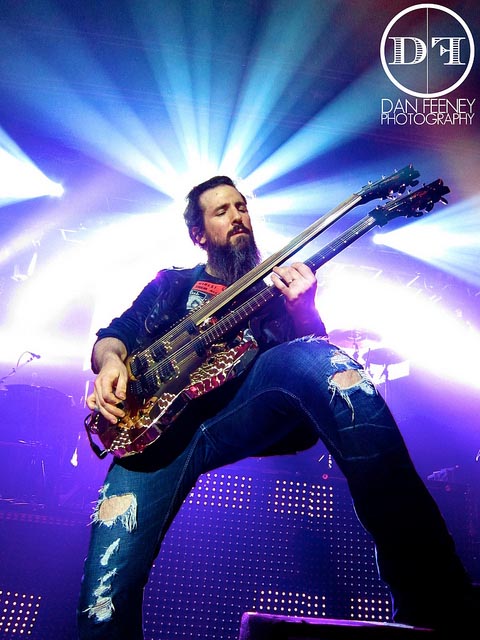 I really love the song "Argentina", since it was a demo that you ve played in a master class in Europe. It would be perfect also for the "other band". Is it true that your initial intention it was to use in Guns N Roses'
I did think that song could have been a good possible candidate, but ahhh, it wasn't in the cards...

Did you even thought to ask from a member of Guns N Roses, to be a guest in Little Brother Is Watching. Perhaps a lick from Fortus would be interesting.

I didn't consider any musical guests for this album. Would like to do an instrumental album in the future and can see having lots of guests on that...

What are the business sides of being to a group nowadays' Do you have a contract like basket players for 3-5 years and when the contract expires you negotiate again the terms like the basket players'

It's different for everyone, all depends on the individuals and what they want in a bizz relationship, that's not about the music bizz, that's a people thing...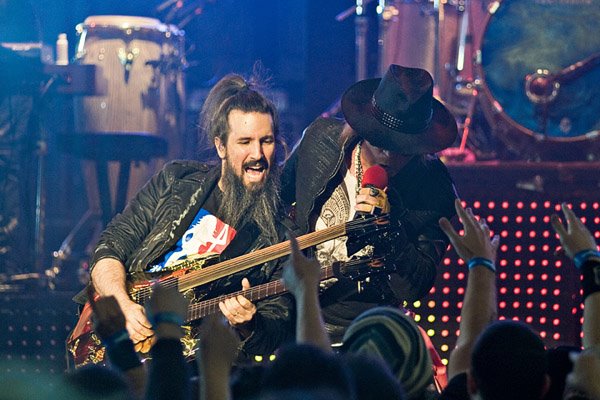 One particular project you've been involved with lately is Art Of Anarchy. How did that particular band come together'
It stemmed from an 18 year friendship with guitarist & drummer Jon & Vince Votta, founders of the band. I produced their past bands over the years. They started a music company and wanted their first release to have a great line-up, we reached out to people and all the pieces fell into place. It started in 2011, was a long time in the making. But I always find that things take time for a reason, growth happens and everything is better for it in the end. The single for "Til the Dust Is Gone" is hitting radio in the US now, the video is out (http://youtu.be/HFT1tW3XsL4), and the album will be out early June. Also put out the "Little Brother Is Watching" music video (http://youtu.be/VmwLc6MiZY0). Glad to be putting out videos, hoping to do more of that this year.
Tell us a few things about your current collaborations that include DMC from the iconic rap group Run DMC. What kind of music should be expected from this project'
Ahhh, having a blast with that! Rob Dukes (former singer of Exodus) is a long-time friend, his band Generation Kill is some serious hard nasty metal, good pure real stuff. They've been collaborating with DMC, writing together, and Rob reached out to me about mixing and producing, laying some guitars as well. Hung out in NY at the studio, with the Generation Kill guys and DMC, played a bit and started putting out music. The first song is called Lot Lizard (http://itunes.apple.com/album/lot-lizard-feat.-bumblefoot/id976176756), and May 31st will be the release of the song "Fired Up", the single for DMC's upcoming solo album. (http://youtu.be/-Z3iGUBIC6Y)

You have been to Greece for live 2 times, one with Guns N Roses and the other as a guitarist for Lita Ford. What are your memories from both shows and how did you end up playing a few shows with Lita Ford.

What I remember from the GNR show was a dog, a stray dog walking around the venue, lying down under the chairs in the heat. I took my jacket and made a little bed for the dog. The Lita show - I remember hangin' out and chatting with friends along the side, outside by the press booths. I remember trading off solos with Lita and virtuoso keyboardist Michael T. Ross, great spontaneous moments. My wife flew in and we spent a day walking around Athens, enjoying the food and of course the sites.

During the soundcheck for Lita Ford, you played Master Of Puppets (songs). What is your favorite album and favorite song from Metallica'

I'm old-school – Lightning, Kill 'Em ll, but I think Puppets is my favorite. Battery, Puppets, yeah.

In one of your live sessions you have said that you love Manowar! What is your favorite album from Manowar and if you have a chance to play a song from Manowar what would be'

I've done it a few times, playing Manowar songs, yes... Defender, Blood Of My Enemies, Black Wind Fire & Steel, Carry On, Valhalla, Kill With Power, Hail To England, Each Dawn I Die, and everything off Battle Hymns. I'd say Hymns is my favorite...

During the summer you will be in Corfu Rock School (August 1st - 8th). Tell us a few things about the Rock School, and how difficult is to attend a "school" when you have sun/beach/cocktails just a few meters away! Also will you bring your Bumblefoot Hot Sauces with you'

Corfu Rock School, yes! (http://www.CorfuRockSchool.com) Looking forward ot doing this again! We spend a week at a resort together on the beautiful island of Corfu, doing guitar workshops in the morning, then spend the afternoon at the beach and relaxing, a chef prepares lunch and dinner, and in the evening we work on songs and then we play gigs together at local pubs, jamming all night :) A lot of fun in a beautiful place, :) All skill levels are welcome, and yes I'll make sure I bring some hot sauce! ()

Since the interview is for www.jazzbluesrock.gr , tell us your 5 favorite artists from jazz and 5 artist from blues.

Couldn't pick only 5 absolute favorites, but if I had to come up with a list... (this could change every time I made it...)

Charlie Christian
Tom Jobim
Thelonious Monk
Herbie Hancock
John Coltrane

Robert Johnson
Elizabeth Cotten
Muddy Waters
Buddy Guy
Etta James

Thank you!
Ron 'Bumblefoot' Thal

---
New Bumblefoot album "Little Brother Is Watching" now on iTunes
http://itunes.apple.com/album/little-brother-is-watching/id964582062
Bumblefoot headlines Pattaya Bike Week festival in Thailand for children's charity, raises $163,000
http://t.co/lpk5PjEpbn
Bumblefoot on BBC
http://t.co/uOLEBut9SB
Bumblefoot on playing and giving
http://t.co/OqIbVlNXcZ
Bumblefoot dazzles all ages at free SXSW show
http://t.co/FycvRTmCPq
Bumblefoot visits orphanage in Jakarta
http://youtu.be/pJHDBlcBLX4
Bumblefoot: Behind the Scenes ~ That Metal Show (VH1Classic)
http://youtu.be/L71H4Lp2x_E
Watch 'Making Of' Bumblefoot "Little Brother Is Watching" album on YouTube
http://bit.ly/bbfnow
www.twitter.com/bumblefoot
www.facebook.com/bumblefoot
www.instagram.com/bumblefoot
www.youtube.com/bumblefoot
www.reverbnation.com/bumblefoot
Try JamPlay for FREE - complements of Bumblefoot
https://beginnerguitarhq.com/jamplay-review/
Bumblefoot Guitar Cases
bit.ly/bbfguitarcase
Bumblefoot Hot Sauces
bit.ly/bbfsauce
BBF Merch store
bit.ly/bbf-merch
BBF iTunes
bit.ly/bbf-itunes
Σχολιάστε το άρθρο
ΣΧΕΤΙΚΑ ΑΡΘΡΑ
''I'm still discovering more nuances and techniques to integrate into compositions and arrangements.'' ''Acoustic, happy, fun time!''

περισσότερα >

Great Pleasure For www.jazzbluesrock.gr to talk with Nate Lopez about Music, Instruments and More..!

περισσότερα >