Interview - The Liberty Trio
By Efthimis Paras
Δημοσιεύτηκε 31/12/2019 11:19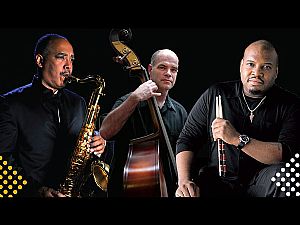 Interview – The Liberty Trio on JazzBluesRock.gr
First of all we would like to welcome you to JazzBluesRock.gr and in Greece.
Joris Teepe arrived in New York in 1992 with just your bass and a suitcase, having lessons with Ron Carter, quickly met many musicians and started to work a lot. Which was the reason of this decision and how difficult it was for you to "survive" to the new worldΆ
In the late 80s and early 90s I used to go to concerts in Amsterdam and listen records a lot, as part of my learning process. All the music coming from New York seemed more interesting so I decided to go there. It was the right move for me as it felt like coming "home". I'm not happy with the American culture or politics, but the music is exactly what fits me. My plan was to stay for a few months, but I extended this to 25 years. In the beginning it was not easy to survive, my room was so small that my bass didn't fit in the room. I had to lay the bass on my bed during the day. At night I put the bass in the shower. But connecting with musicians was easy for me, I started to play local gigs and soon enough I worked a lot.
Don Braden as you say to your bio your first exposure to music came from your parents' record collection, and from radio. Tell us which albums and song inspires you to start playing musicΆ
I was always excited by songs on the radio. Michael Jackson's "Never Can Say Goodbye", "ABC", and "I'll Be There" were big favorites. I also enjoyed instrumental jazz funk, like Grover Washington, Jr. and The Crusaders. My first favorite album was Isaac Hayes, Live at the Sahara Tahoe. I listened many times, and was inpressed by his singing and his instrumental work on saxophone and vibraphone. "Ain't No Sunshinre" was probably my favorite song. I also loved Stevie Wonder's Songs in the Key of Life.
In 1984, Braden moved to New York playing with Harper Brothers Quintet, organist Dr. Lonnie Smith, Betty Carter and touring with the Wynton Marsalis Quintet. How was your experience playing with themΆ
Very illuminating and inspiring. It was a huge learning experience because I was young and inexperienced. They were all very patient with me. I learned about life, about travel, about people, and so much about music, especially the importance of swing, melody and the essential African-American aesthetic of jazz. I also kept building my career.
Joris Teepe how do you find Don Braden there in New York and finally decided you tow to start playing togetherΆ
Don was playing every Thursday in a small bar in Manhattan, just a 5 minute walk from my home. This bar was called Augie's and was a "musicians hang". Augie was a gambler and he lost the bar. One of his bartenders bought the place from him and turned it into one of the best clubs in New York now called "Smoke". Anyway we met there and jammed and soon enough we started to do gigs together. In 1993 we made a CD together. He asked drummer Carl Allen and trumpet playerTom Harrell with whom he was working those days, and I asked pianist Cyrus Chestnut who I did several gigs with that year. That same year we decided to do a European tour and since then we've been playing together in many different projects.
Conversations is your new album celebrating the 25 years of your cooperation. Tell us more about this job.
The music in "Conversations" truly highlights the interactive aspects of how we play jazz. We create, exchange, explore and develop all kinds of ideas and really have fun while doing so. Downbeat magazine acknowledged this CD as one of the best of 2017.
On 14 March you will be here in Athens playing for your fans. How do you feel about itΆ
We are very excited to come to Athens. Any opportunity for us to play together seems like a blessing because currently we all live far from each other. We all still live in New York, but recently Joris spends more time in Amsterdam and Gene spends most of his time in Japan.
Σχολιάστε το άρθρο
ΣΧΕΤΙΚΑ ΑΡΘΡΑ
I was inspired by Jaco Pastorius when I first heard his music, and I picked up the electric bass at age14, it was later that I started learning the double bass...

περισσότερα >